THE SMUGGLER'S GHOST
STEVE LAMB w/
DIANE MARCOU
when marijuana turned a Florida teen into a millionaire fugitive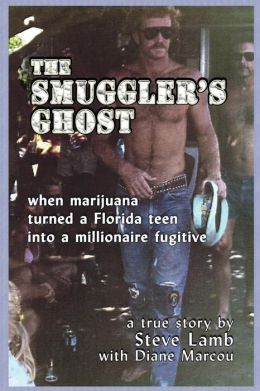 This self published book is a quick page turner and a very enjoyable read. Written in a simple style that makes the book feel quite personal - almost like a diary - Smuggler's Ghost is the story of Steve Lamb who started out as a simple nickel bag dealer in high school down in Florida in the sixties and parlayed that into a career as a hugely successful weed smuggler that earned him millions and millions of dollars and a stint in the slammer.
The book is full of adventures that you would expect (and want in a book like this) from a high level pot dealer - shoving pounds of weed down the toilet of a boat to avoid arrest by foreign boarding officers, dealing bricks of skunk weed at rock festivals, numerous wild and colorful characters, hot chicks ready to party, smuggling drugs into prison, burying millions (sometimes losing) of dollars in plastic boxes and coolers, dangerous and hair-raising voyages across the Caribbean, and of course as what happens to the majority of smugglers - eventually being busted and making the decision to flee the country.
This book makes you long for the days of old time Florida and carefree living. Today if you want to score some weed you may have to deal with some speed freak criminal with a pistol down the back of his or her grease covered jeans. Unless you live in Washington or Colorado that is.
My only complaint about the book is that Steve glosses over his prison days and the book ends with him fleeing the country with those further adventures to be documented in a later book. Since this book came out in 2010 I guess we'll have to wait a while longer to see how it all turned it out. If ever. I wish he had maybe condensed down some of this book and added those later years for one complete telling of the tale.
But all in all a great read about the golden age of weed smuggling. I think it would make a hell of a movie if someone would buy the rights to it.