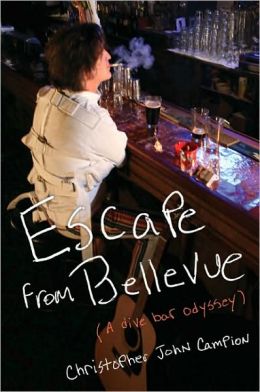 Indie rock raconteur Chris Campion—one of the few patients ever to escape from Bellevue's locked ward—recalls his band's tumultuous ride, his plummet into addiction, and the strange road back to sobriety.
Chronicling more than twenty years in the life of a Long Island kid who became a hardcore fixture of Manhattan's indie rock scene, Escape from Bellevue is a coming-of-age tale like no other. As the lead singer of New York—based indie rock band Knockout Drops, Campion got a taste of fame (but, alas, no fortune) on a wild ride that lasted from the early 1980s through the 1990s.
Charting Campion's extensive experience in the music industry alongside his personal tales of struggle and survival,Escape from Bellevue puts the spotlight on the collective psychosis of twenty years spent in a rolling bacchanal. Just as the Knockout Drops reached the height of their success, having toured with headliners such as Soul Asylum and Violent Femmes, Campion began his downward spiral. Campion was eventually able to come to grips with his addictions, molding his songs and stories into a sold-out off-Broadway musical, Escape from Bellevue. Now presenting these tales in a memoir of madness and redemption, Campion once again proves to possess the creative genius of a die-hard front man.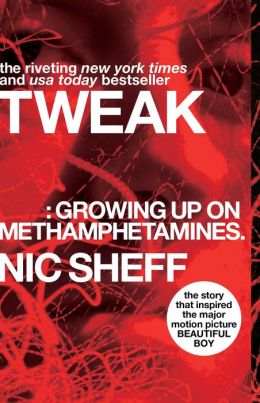 GROWING UP ON METHAMPHETAMINES
NIC SHEFF
Nic Sheff was drunk for the first time at age eleven. In the years that followed, he would regularly smoke pot, do cocaine and Ecstasy, and develop addictions to crystal meth and heroin. Even so, he felt like he would always be able to quit and put his life together whenever he needed to. It took a violent relapse one summer in California to convince him otherwise. In a voice that is raw and honest, Nic spares no detail in telling us the compelling, heartbreaking, and true story of his relapse and the road to recovery. As we watch Nic plunge the mental and physical depths of drug addiction, he paints a picture for us of a person at odds with his past, with his family, with his substances, and with himself. It's a harrowing portrait -- but not one without hope.
The only reason I read either of these books is I picked up them up used and I'm a sucker for booze, dope, and prison/insane asylum escape books...Tweak I picked up at a library sale for 50 cents...Escape From Bellevue was found in the trade in section at Books A Million for 9 bucks. 9 bucks in the trade in section!! What the hell is up with you Books A Million? You probably gave some poor son of a bitch a buck in store credit and then you turn around and sell the damn thing for 9 dollars?? That's more than you normally sell new books for in your clearance stacks! But I guess that makes me the dunce for buying it from you in the first place, doesn't it.
Anyway, for a total of $9.50 I wasn't too damn impressed with either of these books. There aren't great but they weren't shit either. To start off they are both way too long..both of them could have been told in the form of a novella or a collection of short stories.
The authors then seem to remember every time they went on a bender - from the day they took their first drink or snorted their first line until the day they got sober with all the bars they drank in, whores they banged, toilets they puked in, parents & friends they disappointed, ex-bosses they pissed off, & cops who busted them in between. Their experiences seem to go on and on and on.
Escape From Bellevue probably took me 2 months to read because I kept picking it up & putting it down before I finally finished it. Tweak I put down permanently like a sick dog after just a couple of days because overall it was told in such a dreary & dull manner that I found it just too damn depressing to finish.
Escape From Bellevue has a bunch of rave reviews on Amazon but I suspect they are friends of Mr. Campion or fans of his band, Knockout Drops. The book garners 4.7 out of 5 stars so I may be full of shit but I could have just read the chapter on how he busted out of Bellevue Hospital..the first patient to do that feat since 1963..and been good with it. By the way, it wasn't like he broke out of Alcatraz.
I did previously read Beautiful Boy which is is written by Nic Sheff's father, David Sheff. His book details his version of his son's journey through drug addiction and is an excellent read. But Tweak..well let me post a shortened version of a Amazon reader review and just leave it at that...
...
Let me save you $10. Nic does drugs because he likes them. He complains about his parents divorce and how he was abandoned. He complains about his father and that he was raised more like an adult and didn't have a childhood. Then he praises his father for his parenting skills and his wonderful childhood. He can't find God. He thinks he found God. No, he can't find God. He sobers up. He relapses. He sobers up. He relapses. He is diagnosed Bipolar. Things make sense. He stops taking his meds and relapses. He has sex a lot. He hustles. He steals. He shoots up. He falls down. He shoots up some more. Complains about parents. Praises parents. Lather, rinse, repeat.
I'll keep "Beautiful Boy" but "Tweak" goes in the Salvation Army giveaway pile.
Maybe I can get some store credit for them at Books A Million.